I just had to interrupt your regular broadcast to say - how effing
Abaddon

Books
are these shoes?
Honest to god,
I must have these.
Like,
now
. Zombie shoes! They're even in
Abaddon
colours!!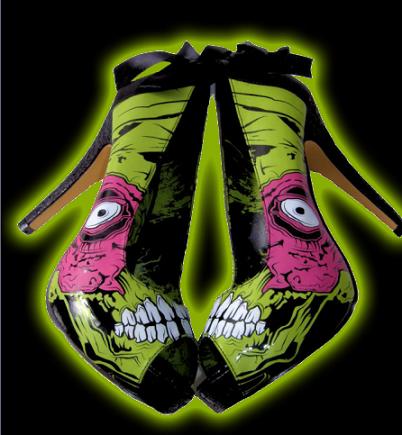 ('Zombie

Stomper

' high heels by Iron Fist)
If you see a brunette tottering around the next Horror convention wearing these, it's probably me. Help me back to the
Abaddon
and Solaris Books table as I can't walk in high heels to save my life. And yet I still want these shoes. (Hey, who needs to actually
walk
? I'll just sit and look at them.) Which reminds me - I'm going to be at
WHC
in Brighton and
Eastercon
in London in a few weeks,
comment if you're going!
Right, back to proofing Weston
Ochse's
Empire of Salt
, his zombie novel for our
Tomes of the Dead
line. It's brilliant, by the way. One thing that completely jumps out at me is the setting, he really makes me want to visit the Salton Sea, (although not if it's full of zombies, obviously! I'd be rubbish with a shotgun). It just sounds like such a spooky, interesting place.
If you don't know already, (and I didn't) the Salton Sea is a large lake in California that was once hailed as a tourist resort, although due to
environmental
problems the water is getting saltier and saltier, the fish are dying out and tourism has decreased.*
There're
loads of abandoned holiday houses and motels, - in short, it's a really spooky setting for a zombie story!
I love ghost town photography of abandoned places, so here's two photos from the Salton Sea to get you in the right frame of mind... The book's out at the end of April!
Right, back to work...**
(photo of an

abadoned

motel by '

pretzelpaws

' taken from

wikipedia

)
The

Olivers

have a chance to make a new home at Salton Sea. Looking forward to California fun, sun and adventure they are unprepared for the ecological devastation they find. The sea is rotting, the town of Bombay Beach is dying and the citizens are like bait, waiting to be plucked from their homes by what comes from the sea. Beware the coming of the green, they say. Beware the coming of the night.
..
('Ghost town photography' by Steve

Bingham

)
*There's lots of information over
here
at the Salton Sea Restoration website if you're interested in the hows and whys of this.
** This proofreading would totally be more fun if I was wearing zombie shoes. Now where's my credit card...